Cenote Dive Tour
Departure from: Mérida, Yucatán.
Includes:
Hotel pick-up (8 AM.) and drop-off (4 PM.), we provide All SCUBA equipment, entrance fees, non alcoholic drinks, fruit.
We going to SCUBA DIVE two amazing Cenotes, where we can do diferent type of dives such as open water, deep, cavern...all this depending of the experience level of the diver...that way there is guaranteed fun for both beginers and advanced divers!!
Price: $97USD. ($1850 Pesos) x Diver. No minimun of divers required !!
Is been a while since your last dive? no worries we give you a free tune-up! Or do you want to dive for the first time? lets discover scuba diving!!
Do you have any questions? contact us!!
Call me or send Whattsapp (+52 1) 9992424370.
CENOTeS (Ts' onot)
The cenotes are deep natural wells . They are perhaps the most interesting natural phenomenon of Yucatan . Without them the ancient Mayan people had lacked sufficient water, as there are no rivers or lakes of importance in Yucatan.

Cenote Nohmozon, one of our favorites !!
These wells were called ts'onot by the Mayans, and its literal meaning is pit or hole in the ground . The rocks that exist in the Yucatan plains are known as sedimentary limestone type , which causes infiltrating the rain water through the cracks in the soil, rocks to gradually wear down gradually , and through hundreds of years large caverns or water tanks are formed, until finally collapsing the roof of the cave revealing their interiors.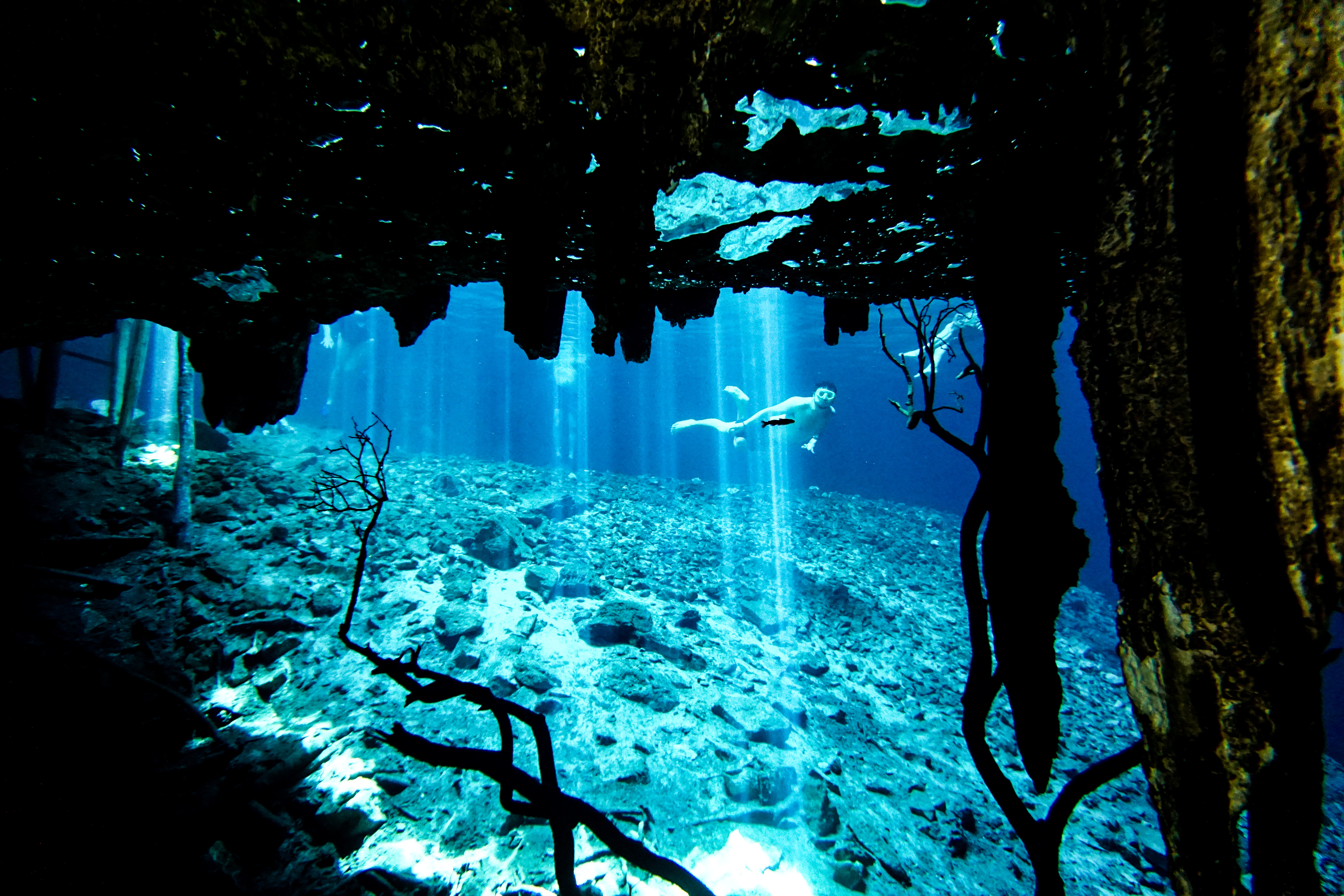 Beautiful Cavern Of Cenote Kankirixche.
The cenotes played a decisive role in the development of the Mayan civilization. Large settlements of this culture were formed around these cavities , and were sacred places for them , representing the entrance to the spiritual underworld. At the bottom of these found plenty of gifts and jewelry that was apparently thrown into the depths after human sacrifices. They have also found remains of pottery and utensils destined for religious ceremonies.
Book your tour today !
Call or Whattsapp : (+52 1)9992424370/9991002931